INDUSTRIAL CONCRETE FEATURE WALL IN RICHMOND.
When you think of concrete you think plain old grey concrete footpaths, buildings and bridges but when you think of Venetian plaster concrete feature walls what do you think? This stunning townhouse in Richmond received a Grey Concrete Finish feature wall earlier this year during renovation of the entire ground floor.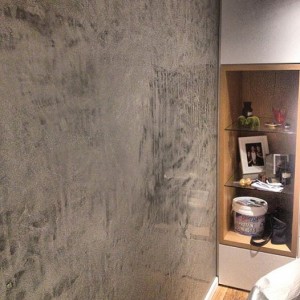 The bedroom had a bagged render feature wall which was painted white. The bagged render posed a bit of a challenge to us because we would traditionally need to level the wall prior to application of Grey Concrete Finish or Venetian Plaster, however, the uneven surface added to the character of the finish by having deeper sections of material in some areas leading to varying tones and depths of colour.  A finishing wax coat enabled us to achieve an even gloss level across the entire surface, making it double as a mirror.
Let us know what you think of the finish by sending us an email through our contact form just to the right of the screen.
Colour : Tranquil Retreat (Dulux)
Finish: Grey Concrete Finish (waxed)